A new breakfast recipe always helps to make your mornings a bit more exciting, and what could be a better choice than brioche French toast? Light, fluffy, and delightfully sweet, this dish is French cuisine at its very best. Its crunchy texture along with the soft and creamy inside make it an instant crowd-pleaser. You don't need to be a culinary expert to make this dish; all you need is some brioche bread, eggs, sugar, and a few other ingredients. Are you ready to discover the perfect way to start your day with a flavorful and scrumptious breakfast recipe?
What is Brioche Bread?
Before we delve into the recipe, let's take a moment to understand what brioche bread is. It is a lightly sweetened bread that originated in France and is typically made with flour, butter, eggs, milk, and yeast. The bread has a slightly darker crust and a fluffy texture that is perfect for French toast.
How to Make Brioche French Toast Recipe
If you haven't experienced the joy of crafting homemade French Toast from scratch, seize the moment! My recipe embraces the use of brioche, an indulgent French bread with its tender crumb and soft crust, creating the ideal canvas for soaking in custard and achieving delectable perfection when fried.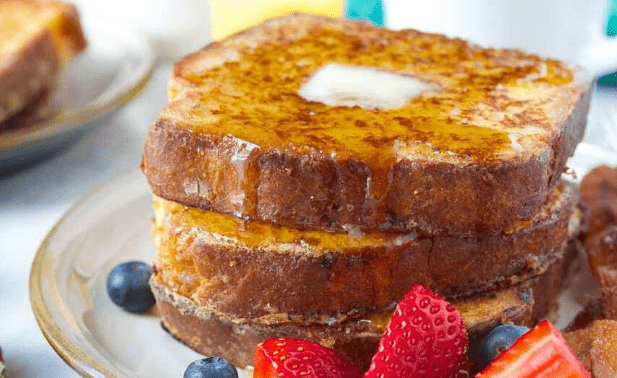 Ingredients required
4 Slices of brioche bread
4 Eggs
1/2 cup of whole milk
1/4th cup of Heavy cream
1 tsp of Vanilla extract
1/4th tsp of nutmeg powder
1/4th tsp of cinnamon powder
4 tbsp of Unsalted butter
Some powdered sugar and fresh berries for garnish
How to prepare brioche French toast recipe:
Preheat the oven to 350°F
In a bowl, whisk eggs, milk, heavy cream, vanilla extract, nutmeg powder, and cinnamon powder together.
-Dip each slice of bread in the egg mixture and let it soak for 10 seconds on both sides.
-Melt butter on medium heat in a non-stick pan.
Place the soaked brioche slices in the pan and let them cook on one side for around 2-3 minutes until golden brown.
-Flip the bread, and let it cook on the other side for around 2-3 minutes until also golden brown.
-Transfer the slices to a baking sheet and bake them in a preheated oven for 8-10 minutes.
-Garnish with powdered sugar and fresh berries.
Tips for making perfect Brioche French toast:
Use thick slices of brioche bread to help keep its shape while cooking
Let the bread soak in the egg mixture for 10 seconds
Remember to add some salt to the egg mixture to balance the sweetness of the dish
Cook the bread on medium heat to avoid burning it and for even cooking.
To make this recipe even simpler, you can also make the egg mixture the night before and let it rest in the fridge for the flavors to develop.
Final Words
Overall, the Brioche French toast recipe is a simple yet delicious breakfast dish that we all crave on lazy mornings. The dish is perfect for a relaxing Sunday brunch or any day of the week. So, why settle for plain toast when you can enjoy the deliciousness of brioche French toast? Try this recipe today and start your day with a smile on your face!