Fried Polenta Recipe: Polenta is a classic Italian dish that is made by simmering cornmeal in water or milk. It is rich, hearty, and a perfect comfort food during the colder months. While many people love creamy polenta served as a side dish, have you ever tried it? It's a crispy and delicious dish that can be enjoyed as a snack or an appetizer. In this post, I'll be sharing with you a simple recipe for fried polenta that will make your taste buds sing.
Experience the delightful sensation of biting into our fried polenta recipe – a symphony of crunchy textures enveloping a lusciously creamy interior. This incredibly versatile dish can serve as a delectable side or tantalizing appetizer. Even if you're not an ardent polenta enthusiast, rest assured that you'll cherish every chewy and crispy strip. Try it and savor the magic!
What is fried polenta made of?
Polenta, a delectable Italian delicacy, is created by coarsely grinding corn into a rich, creamy masterpiece. When freshly cooked, its porridge-like texture creates a perfect foundation for accompanying sauces and main courses. Furthermore, as it cools, polenta transforms into a solid form that can be effortlessly sliced and fried.
Fried Polenta Recipe
Here is the step-by-step guide on how to make a tasty fried polenta recipe: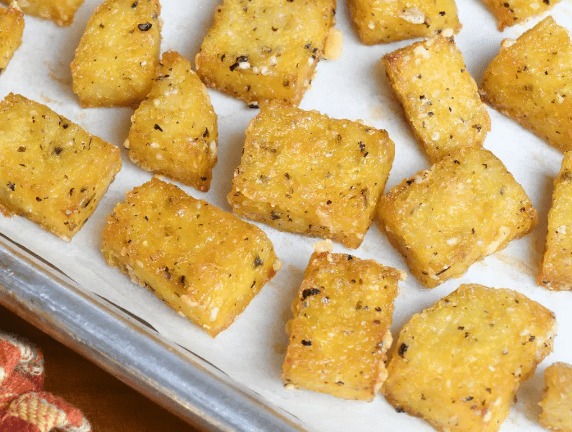 Ingredients:
1 cup of polenta
4 cups of water
Salt to taste
Vegetable oil for frying
Parmesan cheese (optional)
Instructions:
To make the best-fried polenta recipe, here are some steps to cook:
In a large pot, bring 4 cups of water to a boil. Add 1 tsp salt to the boiling water.
Slowly pour the polenta into the pot while constantly stirring it with a whisk. Keep stirring for a minute or two to prevent lumps from forming.
Cover the pot and let the polenta cook for 20-25 minutes on low heat, stirring occasionally.
Once the polenta is cooked, pour it onto a baking sheet and let it cool. You can leave it on the counter or put it in the refrigerator for a firm consistency.
Once the polenta has cooled, cut it into small squares or triangles.
Heat up vegetable oil in a frying pan over medium heat.
When the oil is hot, add the polenta squares to the pan and fry for 3-4 minutes or until they turn golden brown.
Take the fried polenta from the pan and place it on a paper towel to remove excess oil. You can sprinkle some parmesan cheese on top of the polenta for added flavor.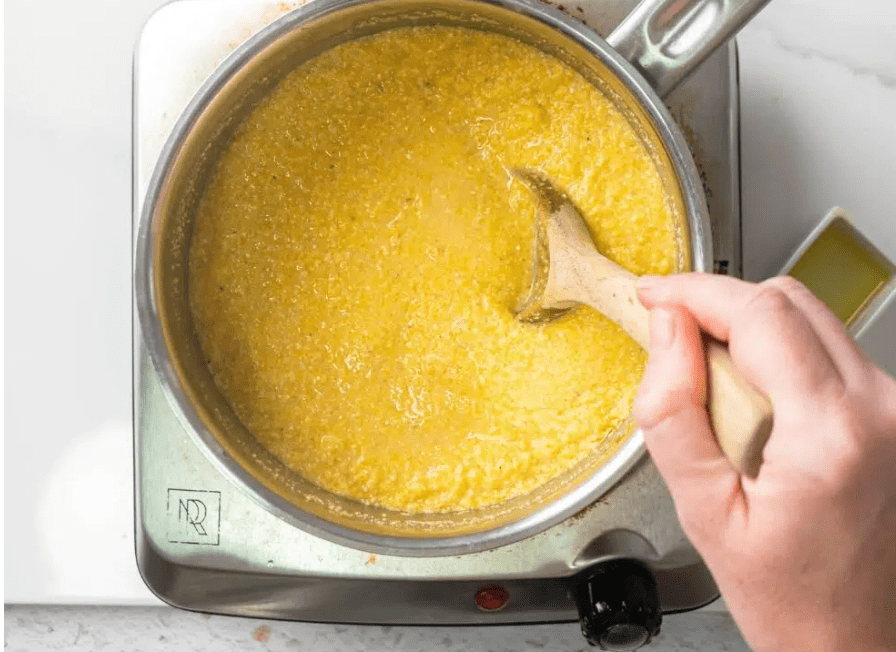 Enjoy your delicious and crispy fried polenta as a snack or appetizer!
Tips and variations:
Feel free to experiment with the type of cheese you use. Aged cheddar or feta goes well with polenta.
You can also add some dried herbs like rosemary or thyme to the polenta while you are cooking it.
Try mixing some garlic or chili flakes into the polenta for a spicy twist.
You can even serve the fried polenta with some marinara sauce for dipping.
Final Words
Fried polenta is a simple and tasty dish that can be prepared in under an hour. This dish is perfect for a cozy night in or as an appetizer at your next dinner party. With its crispy texture and versatile nature, it's no wonder that fried polenta is gaining popularity among food enthusiasts. So why not try this recipe out and see for yourself how polenta can be a yummy and satisfying dish?