Indulge in a delightful homemade Chick-fil-A Cobb Salad using this effortless copycat recipe.
Indulge in the delightful flavors of Chick-fil-A's famous Cobb Salad without breaking the bank with this Copycat Chick-fil-A Cobb Salad recipe. Not only is it more budget-friendly, but it also offers an opportunity to personalize the ingredients to match your nutritional preferences and dietary requirements. Homemade means utmost control over the quality and organic nature of the components, ensuring a healthier and tastier experience for your palate.
In this article, we will walk you through the steps of creating a delectable and nourishing Cobb Salad with our own twist. Our rendition features air-fried nuggets, charred corn, and a medley of greens that bring distinct flavors and textures to this beloved dish. Whether you're preparing meals in advance or seeking a wholesome family dinner, our copycat Chick-fil-A Cobb Salad recipe is an impeccable choice.
Why is it called a Cobb salad?
The origins of the salad have been narrated in different accounts. According to one story, it was in 1938 at the renowned Hollywood Brown Derby restaurant that this iconic dish was conceived, eventually earning its place as a signature creation. It pays homage to Robert Howard Cobb, the visionary owner of this establishment.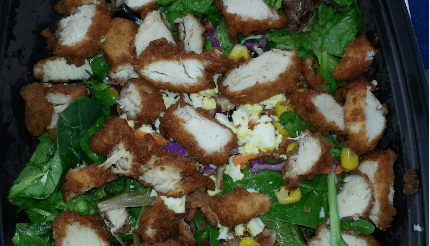 What's in a Cobb Salad?
The classic Cobb salad boasts a delightful medley of grilled chicken, romaine lettuce, avocado, hard-boiled eggs, bacon, tomatoes, and blue cheese. However, like any recipe, there is always room for personalization. This rendition elevates the dish by adding a tantalizing combination of charred corn, a blend of Monterey Jack and cheddar cheese, and turkey bacon, enhancing both the flavor and texture of the salad.
If you're in the mood to enhance your Cobb salad with additional ingredients, there are plenty of options available to suit your taste. For instance, you have the freedom to incorporate various elements, such as:
Sliced radish and cucumber
Crispy fried onions or shallots
Grilled or roasted veggies, bell peppers, mushrooms, and zucchini
Nuts and seeds, including walnuts, sunflower seeds, and almonds
Dried fruits such as raisins and cranberries
Experience the versatility of Chick-Fil-A-Cobb salad by swapping out dressings such as blue cheese or ranch to tantalize your taste buds. The true beauty lies in its customizable nature, allowing you to curate the flavors according to your preferences. Whether you opt for a medley of ingredients or stick to the classic recipe, rest assured that a bowl of Cobb salad will always deliver a gratifying and nourishing meal.
How to Make Copycat Chick-fil-A Cobb Salad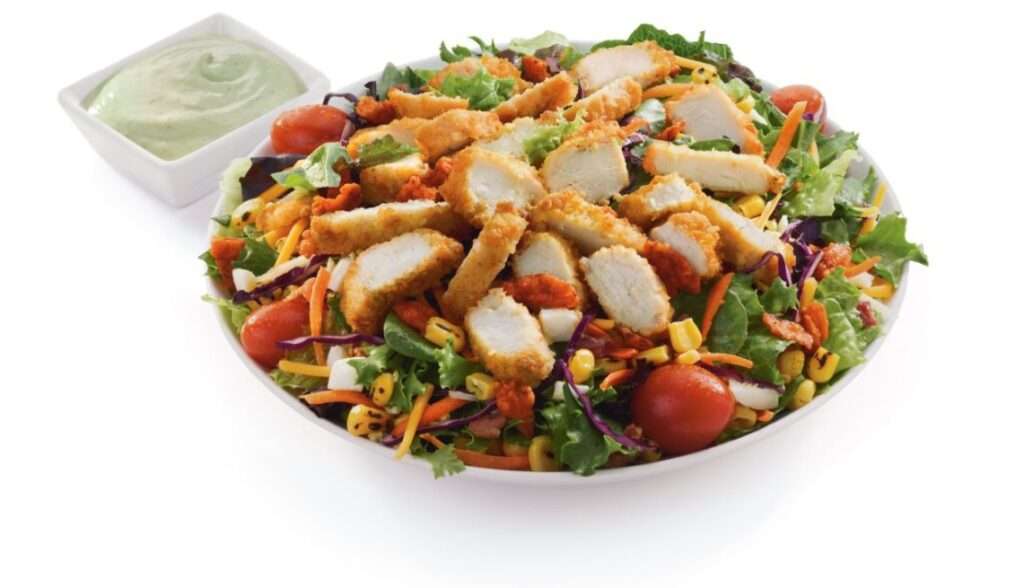 Ingredients for Chick-fil-A Cobb Salad
Lettuce of choice
Tomato
Charred corn
Turkey bacon, or any bacon of choice
My copycat Chick-fil-A air-fried nuggets (recipe in my feed)
Boiled eggs
A blend of Monterey Jack + sharp cheddar
Feel free to customize the ingredients to suit your preferences. Add toppings like radishes, cucumbers, crispy fried onions, grilled or roasted veggies, cheese, nuts, seeds, or dried fruits to elevate your salad. With the right combination and a touch of creativity, you can create a copycat Chick-fil-A Cobb Salad that surpasses the original. Enjoy making this exceptional dish!
Instructions for making Chick-fil-A Cobb Salad
Cut your greens and toppings into small, bite-sized pieces for easy consumption.
Before you begin cutting, make sure to wash and dry your greens thoroughly.
You can achieve that perfect char on your corn by either using a stovetop or a grill.
Cook your turkey bacon on a skillet until crispy.
Cut the bacon into small, bite-sized pieces.
Prepare your hard-boiled eggs by boiling them, cooling them under cold water, and peeling them.
Layer your toppings and greens in a bowl.
To prepare the avocado ranch dressing, blend together ripe avocado, tangy buttermilk, flavorful ranch seasoning, creamy Greek yogurt, and a splash of refreshing lime juice.
Drizzle the dressing over your salad.
Time required to make Chick-fil-A Cobb Salad
Prep Time: 20 minutes to 30 minutes
Tips for Making a Good Salad
Creating a delicious salad relies on the artistry of balancing diverse flavors and textures. A remarkable illustration of this is the Cobb Salad, where an assortment of ingredients synergistically combine to deliver a gratifying and symphonic dining experience.
By combining crisp lettuce with creamy avocado, crispy bacon, and tender chicken, you create a salad that is not only satisfying but also delectable.
To make a fantastic salad, customize it to suit your preferences. Add extra veggies, try a different dressing, or add cheese. Crafting your salad masterpiece at home allows you to tailor it exactly how you like it. Enjoy the freedom of creating your perfect salad!
Also Read-
Final Words
With the Chick Fil A Cobb Salad Recipe, you have the opportunity to craft a delectable and nourishing replica, infused with your own unique flair. By selecting top-notch ingredients and incorporating your personal twist, your homemade salad can surpass the one served at the restaurant, in both taste and satisfaction.
For your next nutritious and gratifying meal, consider preparing a homemade Chick-fil-A Cobb Salad. With some simple ingredients and a dash of ingenuity, you can craft a truly exceptional salad that will delight your taste buds.