Bannock Recipe, a traditional bread-like food, has been a staple of Indigenous cuisine for centuries. Its popularity is due to its simplicity of preparation and cooking, which is an excellent source of energy and sustenance for travelers. Today, it has become a favorite among outdoor enthusiasts and foodies for its unique texture and taste. So, if you are looking for an easy and delicious bread recipe, then Bannock is your answer! In this post, we will guide you through the preparation of a classic bannock recipe.
What is Bannock?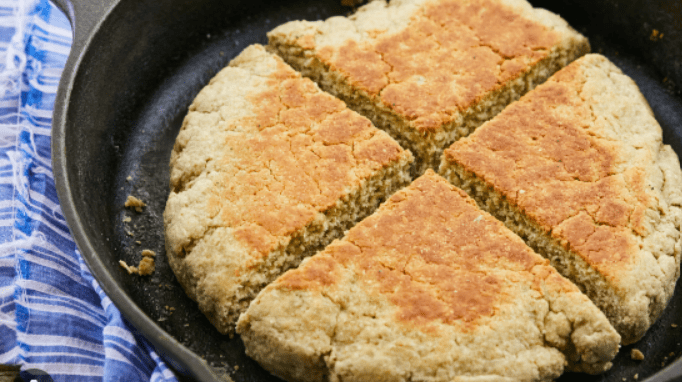 Bannock Bread is a delightful skillet recipe for yeast-free fried bread. This traditional Scottish/Indigenous bread can be effortlessly made with basic pantry staples. It is perfect for when you need a quick bread fix or even when you're gathered around a crackling campfire!
Nutrition Facts of Bannock per serving
| | |
| --- | --- |
| Calories | 149 |
| Fat | 4g |
| Carbs | 25g |
| Protein | 3g |
Other Nutritional Values:
Cholesterol 10mg | Sodium 466 mg | Total Carbohydrate 25g | Dietary Fiber 1g | Total Sugars 0g | Protein 3g | Calcium 141 mg | Iron 2mg | Potassium 35mg
How to make Bannock
Here is the step-by-step guide on how to make Tasty Bannock.
Ingredients required for Bannock Recipe
Ingredients
1 cup all-purpose flour
2 tsp baking powder
1/2 tsp salt
2 tbsp butter or oil
1/2 cup warm water
Optional ingredients (sugar, cinnamon, berries, raisins, etc.)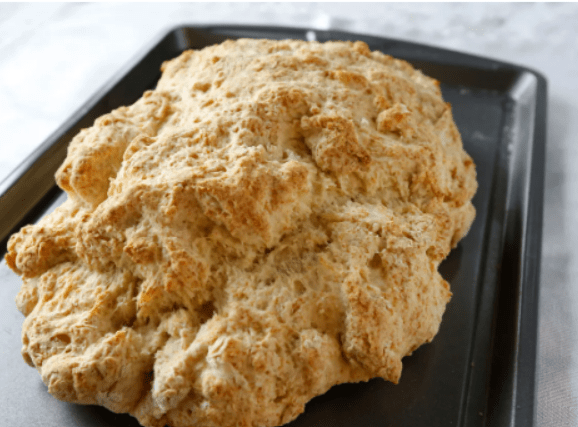 Steps for Bannock Recipe
Mix flour, baking powder, and salt in a bowl and add butter or oil.
Mix the ingredients until they look like breadcrumbs.
Add warm water gradually and stir until the dough is formed. Add a bit more water if the dough is too stiff.
If you want to include optional ingredients, fold them into the mixture gently.
Transfer the dough onto a floured surface and knead for a few minutes, until it's elastic.
Flatten the dough to about 1/2 inch thickness.
Heat a pan to medium heat and add a bit of oil or butter.
Place the flattened dough into the pan and cook until the bottom is golden brown (around 3 minutes)
Turn the dough over and cook until the other side is brown as well (another 3 minutes).
Bannock is great to make over an open campfire, too! Wrap the flattened dough around a stick and cook over a fire until it's nicely browned and cooked through.
Tips for Better Taste
To make the dough sweet, add a tablespoon or two of sugar and a pinch of cinnamon. Mix it with flour.
To make the dough more flavorful, add dried fruits, raisins, or blueberries to the dough.
You can substitute all or part of the flour with a baking mix like Bisquick.
Bannock can be sliced and served with butter or jam as a snack or as an alternative to bread with meals.
Heat oil in a pan over medium heat until it reaches a sizzling golden brown. Carefully flip and repeat the process to achieve a uniform and appetizing deep brown color on both sides.
Drain on paper towels.
Eat warm or at room temperature.
How to store Bannock
It is advisable to consume the bread immediately after it is baked, as this particular type of bread is not suitable for storage.
Summary

Making bannock is a fun and delicious way to enjoy a traditional Indigenous food. With simple ingredients and straightforward instructions, anyone can prepare it in no time. The best part is that with variations of your choice, bannock can be a versatile treat for any occasion. Share this recipe of how to make bannock bread with friends and family and impress them with your homemade bannock!