Making homemade pasta is an incredibly satisfying experience. Not only does it taste delicious, but the process of rolling out the dough and cutting it into noodles can be therapeutic! Plus, with just four ingredients (flour, eggs, salt and oil) you don't need to worry about stocking up on hard-to-find ingredients or breaking the bank.
In this article, we will give you a step-by-step guide on how to make a simple homemade pasta recipe that you can enjoy with your family and friends.
Steps for Easy Pasta Recipe
Pasta has become a staple in the modern kitchen – it's quick to make, delicious to eat and endlessly versatile. But have you ever tried making it from scratch? With this simple 4-ingredient recipe, you'll be producing chewy, delectable pasta noodles in no time. And the best part? All you need is flour, eggs, olive oil and salt!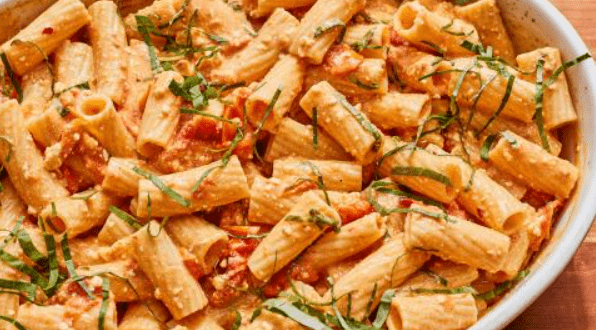 Ingredients:
1 1/2 cups of all-purpose flour
2 large eggs
A pinch of salt
Water
Step 1: Mix the Ingredients
First up, measure out 2 cups of all-purpose flour and place it in a mixing bowl. Make a well in the center of the flour and crack in 3 eggs, 1 tablespoon of olive oil and 1/2 teaspoon of salt. Using a fork, beat the eggs and mix them into the flour until the dough holds together.
Step 2: Knead the dough
On a floured surface, knead the dough for around 10 minutes until it becomes smooth and elastic. Then, wrap the dough in plastic wrap and let it rest for about 30 minutes.
Step 3: Roll out the pasta
Unwrap the pasta dough and cut it into small pieces. Then, using a pasta machine or rolling pin, roll the dough out thinly until it's around 1/8 inch thick. Dust the pasta sheets with flour to prevent sticking.
Step 4: Cut the pasta

Once you've got your sheets of pasta, create the shape you desire: fettuccine, linguine or spaghetti are all good options. Using the pasta maker, or your hands and a sharp knife, cut the pasta into the desired shape and lay it out to dry for another 15-30 minutes.
Step 5: Cook the pasta

The final step is to cook the pasta! Boil a large pot of lightly salted water and add the pasta. Cook until it's al dente and then drain. Serve with your favorite sauce or toppings.
Final Words
Making your own pasta at home is an enjoyable and easy way to create a delicious meal. By following this four-ingredient homemade pasta recipe, you can have chewy, delicious noodles in no time. This recipe is perfect for those who are new to homemade pasta or seasoned cooks looking for a reliable go-to recipe. By following the simple steps outlined, you'll be able to create pasta that's every bit as good (if not better!) than store-bought varieties. So, next time you're craving pasta for dinner, skip the restaurant and whip up a batch yourself – you won't regret it!
The process of rolling out the dough and cutting into strips is fun and therapeutic – plus you don't need to worry about stocking up on hard-to-find ingredients or breaking the bank. So why not give it a try today and amaze your family and friends with homemade pasta perfection? Bon Appetit!
Tags: pasta recipe, homemade pasta, four-ingredient pasta, easy pasta recipe, chewy noodles.