Indulge in the delightful flavors of this hearty and creamy Rasta Pasta Recipe. It's the ultimate blend of tenderness, with perfectly cooked pasta, vibrant bell peppers, and seasoned jerk chicken all brought together in a velvety, creamy sauce. Prepare to be amazed by the exquisite simplicity and incredible taste of this easy-to-make yet undeniably delicious pasta dinner.
What is Rasta Pasta
Jamaican Rasta Pasta Recipe, a unique and mouth-watering recipe, is taking the world of pasta to another level. This Jamaican-inspired pasta recipe is all about spicy, creamy, and savory flavors that come together perfectly and create a delicious dish that's hard to resist.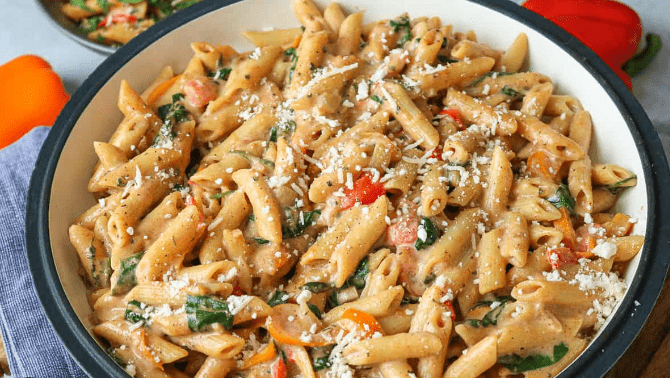 In this blog, we will dive deep into the world of Rasta Pasta, revealing its history, and how to prepare a perfect Rasta Pasta dish at home!
Origin and History of Rasta Pasta
Rasta Pasta is a unique and popular pasta dish, which originated in Jamaica in the late 1990s. The dish was created by Susan Chung, a Jamaican chef, and her husband, Orville Mundell. The couple wanted to create a new pasta dish that would reflect Jamaican culture and flavors, and that's how the idea of Rasta Pasta came into existence. The dish has since become very popular in many Caribbean islands, and also in the United States, UK, and Canada.
How to Make Rasta Pasta
Ingredients:
Here is the list of the main ingredients required for the Simple Rasta Pasta recipe. Also, it is required to use only fresh and quality ingredients.
1 lb. pasta (we recommend using ziti or penne)
1 onion, diced
1 red pepper, diced
1 green pepper, diced
2 cloves garlic, minced
1 tablespoon jerk seasoning
1 can (14 oz.) coconut milk
1/2 cup Parmesan cheese (optional)
Salt and pepper, to taste
Olive oil, for cooking
Step-by-Step Guide for Rasta Pasta Recipe
Cook the pasta according to the package instructions until al dente. Drain and set aside.
In a large saucepan, heat the olive oil over medium heat. Add the diced onion, red pepper, and green pepper, and cook for 5-7 minutes or until softened.
Add the minced garlic and jerk seasoning to the pan, and cook for another 1-2 minutes or until fragrant.
Pour the can of coconut milk into the pan and stir to combine all the ingredients. Let the sauce simmer for 5-10 minutes or until it thickens slightly.
Add the cooked pasta to the saucepan and toss to coat the noodles with the sauce. If desired, add Parmesan cheese and salt and pepper to taste.
Serve hot with additional Parmesan cheese and chopped fresh parsley, if desired.
Serving Suggestions:
Rasta Pasta is a versatile dish that can be served in a variety of ways. Here are a few ideas to get you started:
As a main dish: Serve Rasta Pasta on its own with a side of garlic bread or a green salad.
With Protein: Add cooked chicken, shrimp, or sausage to the dish for a heartier meal.
As a side dish: Use Rasta Pasta as a side dish to grilled meat or fish.
In a bowl: Serve Rasta Pasta in a bowl with additional toppings like avocado, cherry tomatoes, or hot sauce.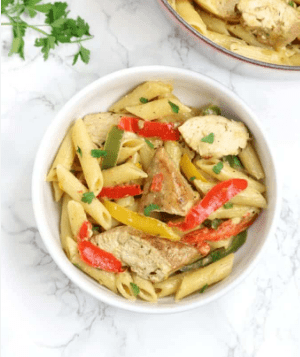 Rasta Pasta Sauce
The Rasta Pasta sauce is a crucial element that imparts distinct flavors and Caribbean influence to the dish. It combines various ingredients to create a creamy, aromatic, and slightly spicy sauce.
How to make Rasta Pasta Sauce at home:
Rasta-inspired spices and herbs: The sauce usually contains a mix of Caribbean spices and herbs, such as garlic, thyme, allspice, ginger, paprika, cayenne pepper, and black pepper. These spices add to the sauce's robust and flavorful profile.
Creamy base: Rasta Pasta sauce achieves creaminess by using ingredients like coconut milk, heavy cream, or yogurt. Coconut milk lends a rich, tropical taste, while heavy cream provides a luscious, indulgent texture. Yogurt offers a lighter, tangier variation.
Optional ingredients for added flavor: To enhance the taste of the sauce, consider adding hot sauce, chili flakes for spice, or jerk seasoning for Caribbean flair. These optional ingredients elevate the Rasta Pasta sauce and add complexity to the dish.
The Rasta Pasta Sauce combines key elements to achieve a harmonious blend of savory, aromatic, and mildly spicy flavors. It perfectly complements the pasta and other ingredients, acting as the binding element that brings everything together for a delightful culinary experience.
Also, Check This:
Rasta Pasta recipe with coconut milk
Final Words
At last, Best Rasta Pasta Recipe is an excellent pasta dish for anyone who loves to experiment with flavors and spices. The dish is beautiful to look at, and the flavors are even better. It's a perfect dish for when you want to add some spiciness and variety to your dinner table. So why not try making this dish tonight? Trust us, your taste buds will thank you!
FAQs
What is Rasta Pasta sauce made of?
To make creamy Rasta pasta sauce, use Rasta-inspired spices (garlic, thyme, allspice, ginger, paprika, cayenne pepper, and black pepper) and a creamy base like coconut milk, heavy cream, or yogurt. Add hot sauce, chili flakes for spice, or jerk seasoning for Caribbean flair. Mix all ingredients for a tasty Rasta pasta sauce.
What does Rasta Pasta mean?
Rasta Pasta is a vibrant dish that combines a medley of bell peppers, a creamy sauce infused with Caribbean seasonings. It draws inspiration from an authentic Italian recipe, while incorporating traditional Jamaican ingredients.
What nationality is Rasta Pasta?
Rasta pasta Recipe, with its origins in Jamaica, showcases a delightful fusion of flavors. This vibrant dish features meticulously selected ingredients, including zesty jerk seasoning, bell peppers, cream, and pasta. It captures the essence of the Jamaican flag with its visually striking colors: yellow pasta, succulent jerk chicken with a hint of blackened char, and the green vibrancy of bell peppers or cilantro.
How long does it take to make Rasta Pasta?
Preparing a delectable rasta pasta typically requires approximately 20 to 30 minutes of cooking time.