Indulge in the delight of this creamy, savory, and healthy 4 Ingredient Guacamole Recipe. Even novice chefs can whip up this delectable dish in no time. Whether you're in need of healthy game day food, a flavorful snack, or a scrumptious topping for your favorite Mexican recipe (grilled elotes, anyone?), this simple side will leave your mouth watering. The best part? This super easy guacamole recipe requires only a handful of ingredients and takes a mere five minutes to prepare. With its simplicity rivaling my irresistible avocado sauce, it's a culinary marvel that's sure to impress.
What is guacamole?
Guacamole is one of the most delicious dips out there, and it's a perfect party dish, snack, or appetizer. It's made with fresh ingredients and packs a lot of healthy fats and nutrients. It's also a quick recipe that requires just four ingredients and can be made within minutes.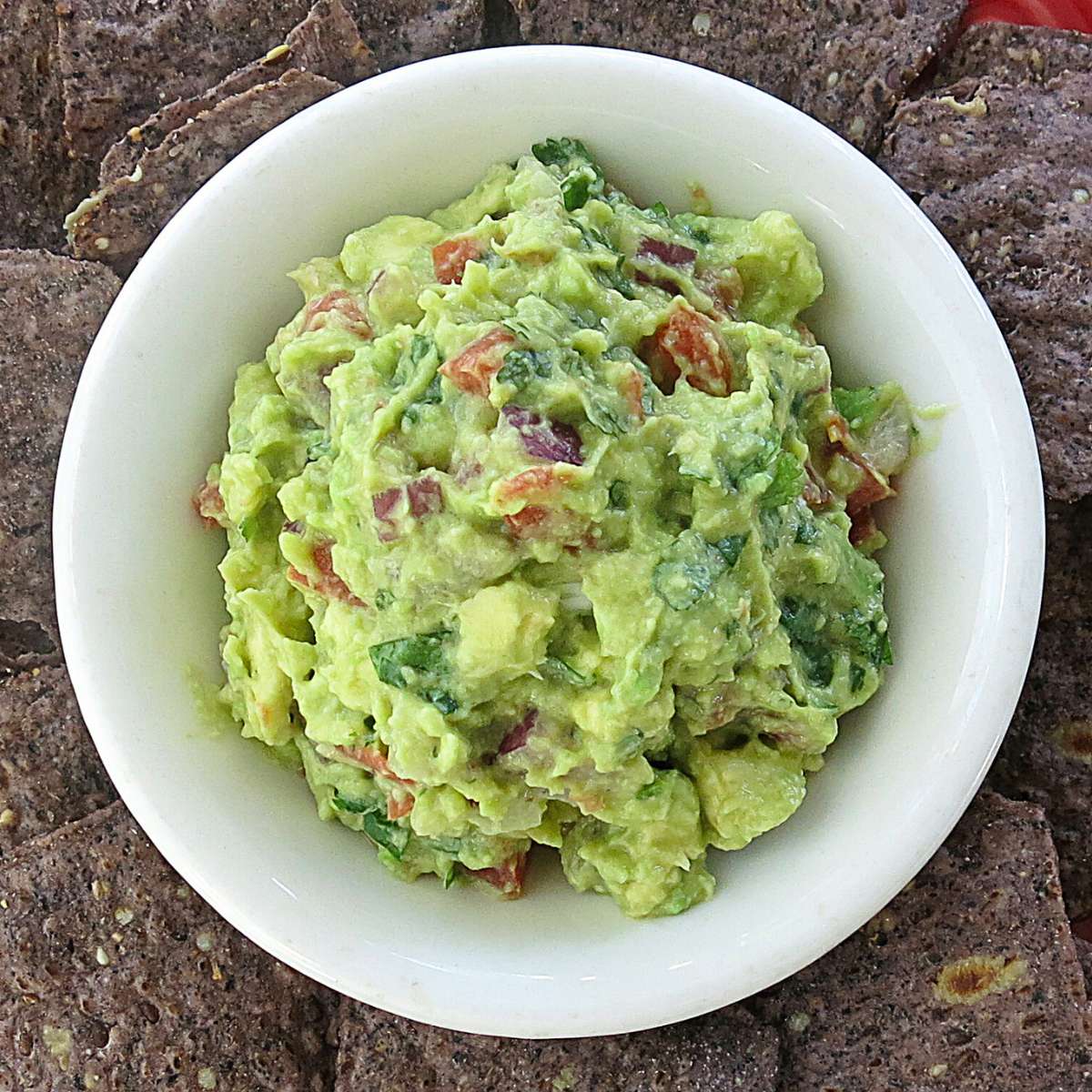 If you think it's too complicated to make, this easy guacamole recipe will change your mind! It takes minutes to prepare and uses basic ingredients you may have in your kitchen.
Why a 4 Ingredient Guacamole Recipe?
Prepare a quick and effortless guacamole recipe that comes together seamlessly. With easy preparation, minimal ingredients, and a creamy and delectable taste, it's an ideal dish for avocado enthusiasts, large gatherings, and even children.
This simple recipe requires only four ingredients and can be prepared in just five minutes, making it the perfect choice for novice cooks looking to start their culinary journey.
Indulge in the delectable flavors of this healthy recipe, which is low-carb and vegan but also a treat for your taste buds and your well-being. This dish packs essential nutrients such as vitamin B6, potassium, and healthy fats too.
This guacamole recipe is perfect for kids as it avoids spicy jalapeños and large onion chunks. However, you can easily enhance its flavor with other fresh and zesty ingredients. Discover more below.
Easily create a crowd-pleasing guacamole with just four ingredients. Whether you're serving a small gathering or a larger group, this recipe can be multiplied without any hassle. Double, or even triple it, and you'll have enough to satisfy everyone's taste buds.
RECIPE FOR 4 INGREDIENT GUACAMOLE
Here, we'll show you how to make an easy, 4-ingredient guacamole recipe that's perfect for any occasion.
Ingredients for 4 ingredient Guacamole Recipe
2 ripe avocados
1 lime
½ teaspoon Kosher salt
2 tablespoons cilantro, chopped
Steps to Make
Cut the avocados in half, remove the seed, and scoop the flesh into a mixing bowl.
Using a fork, mash the avocado until you achieve your desired consistency.
Cut the lime in half and squeeze the juice over the mashed avocado. Mix well.
Add the Kosher salt and cilantro, and mix well.
Adjust the seasoning to your taste. Add additional salt or lime juice if desired.
Tips for Better Taste
Use ripe avocados that give a little when pressed. If the avocado is overripe, it can lead to a mushy texture.
Use fresh cilantro for extra flavor. If you're not a fan of cilantro, you can substitute it with other herbs like parsley or basil.
For a little heat, add some minced jalapeno or serrano pepper.
To keep the guacamole fresh for longer, press plastic wrap directly on its surface to prevent air exposure, which can cause browning.
Ways to serve guacamole: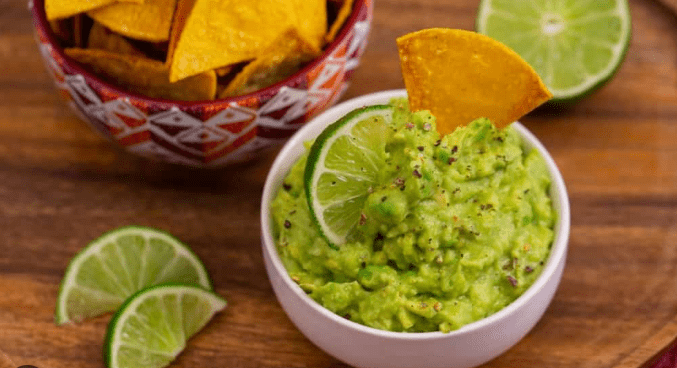 As a dip for tortilla chips, crackers, or toasted bread.
As a topping for tacos, nachos, quesadillas, or burritos.
As a dressing for salads or bowls.
As a spread for sandwiches or wraps.
Guacamole is a versatile recipe that can be served in many ways and always tastes delicious.
Final Words
This 4 ingredient guacamole recipe is easy to make and uses simple, fresh ingredients. With a little preparation, you can whip up a batch of healthy guacamole in minutes. It's perfect for any occasion and can be adjusted to your liking with added ingredients like jalapenos or garlic. Remember to serve it fresh and store it properly with plastic wrap on the surface to keep it from turning brown. So, next time you want to impress your friends or family with a quick and delicious dip or appetizer, give this recipe a try!