Discover our perfected South Indian Sambar Recipe, a flavorsome, hearty, and healthy vegetable lentil stew. Follow this easy method to enjoy the sambar with delectable snacks like Idli, Dosa, Medu Vada, or Uttapam. Alternatively, pair it with rice for a comforting, nutritious, and satisfying meal. Join us on this culinary journey to savor the authentic taste of South India.
What is Sambar?
Sambar, a delectable South Indian lentil and vegetable stew, is crafted with meticulous attention to detail. Made with pigeon pea lentils, tangy tamarind, and the exquisite essence of sambar powder, this culinary delight has earned its rightful place as a staple in South Indian households. Its timeless appeal transcends boundaries, resonating with affection in the hearts of countless aficionados.
A classic sambar recipe combines a medley of flavorful vegetables, lentils, tangy tamarind, fragrant sambar powder, and a select blend of spices. This delightful concoction effortlessly captures the essence of traditional cuisine, offering a tantalizing burst of flavors and textures.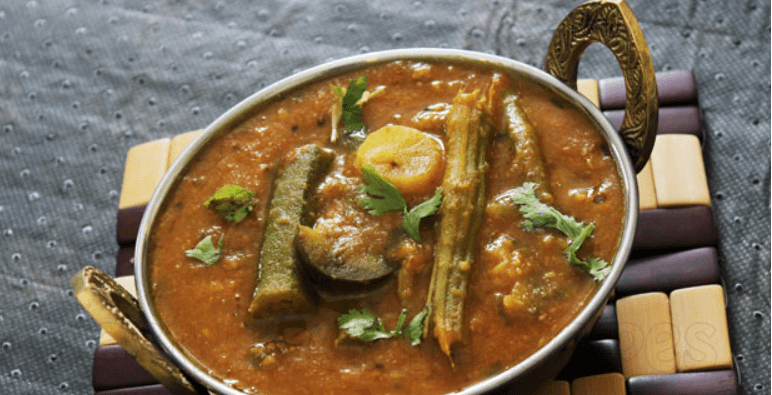 High-quality sambar powder is key to crafting a delicious and flavorful sambar. When preparing this aromatic dish, be sure to use fragrant sambar powder to enhance the taste and elevate your culinary experience.
You may also opt for your preferred brand of sambar powder. Personally, I prepare my own homemade sambar powder, as I find it imparts the most exquisite and delightful flavor to the sambar.
If you reside outside of India and are unacquainted with Indian cuisine, you can conveniently procure Sambar powder from online platforms like Amazon or local Indian grocery stores.
Sambar is not only healthy but also packed with nutrition. It is a combination of lentils and vegetables and a rich source of protein, vitamins, minerals, and other essential nutrients. Enjoy it with rice or idli for a wholesome and satisfying meal.
In my sambhar, I like to add a variety of vegetables from the list mentioned below, or sometimes just a single vegetable. For this particular sambar recipe, I have included drumstick, okra, pumpkin, carrots, brinjals, french beans, and small onions (shallots or pearl onions).
Steps on How to Make Tasty Sambar Recipe
Ingredients:
-1 cup of toor dal (split pigeon peas)
-2 cups of water
-2 cups of chopped vegetables (onions, tomatoes, carrots, beans, pumpkin, brinjal, and drumsticks)
-2 tablespoons of Sambar powder
-1 green chili, slit lengthwise
-1-inch piece of ginger, grated
-1 teaspoon of tamarind paste
-1 teaspoon of jaggery
-Salt to taste
-Few curry leaves
2 tablespoons of vegetable oil
Method:
Step 1: Rinse the toor dal several times in water until the water is clear. Add it to a pressure cooker, pour in two cups of water, and cook till two whistles. Wait for the cooker to cool down, then mash the dal until it is smooth and set it aside.
Step 2: Heat oil in a large pot and add the onions. Cook until golden brown. Add curry leaves, green chili, and ginger. Stir for a minute, then add all the chopped vegetables and stir well. Cook the vegetables for 5–10 minutes.
Step 3: Add the Sambar powder to the vegetable pot, sauté it for a minute, then add the mashed dal to the mix. Mix well, and let everything come to a boil.
Step 4: Add tamarind paste, jaggery, and salt. Mix everything well and let it simmer for 5–10 minutes.
Step 5: Sambar is ready! Serve hot with steamed rice or your favorite Indian bread.
Tips
-You can use any vegetables of your choice, but make sure to add drumsticks as they give Sambar its distinct flavor.
-Add more or less Sambar powder depending on your spice tolerance.
-You can also use a Sambar masala mix if you do not have Sambar powder available.
Final Words
In conclusion, Sambar is an easy and nutritious dish to whip up any day of the week. This recipe will keep everyone coming back for seconds and thirds. It is possible to experiment with adding more vegetables, spices, or dals to the Sambar recipe, making it more interesting and unique. The delightful aroma and flavor of Sambar make it a comfort food, perfect for any occasion. You do not need to be a South Indian to make sumptuous Sambar; simply follow the above recipe, and you are good to go!