Deviled eggs recipe relish: When it comes to preparing party snacks, deviled eggs are a classic and sure bet to satisfy everyone's taste buds. However, serving them with the same recipe can become quite monotonous, which is why we've come up with an exciting twist. With the addition of relish, our deviled eggs take on a unique and delicious flavor. In this recipe, we will show you how to prepare deviled eggs with relish in just a few simple steps.
How to make Deviled Eggs recipe relish
Here are some steps to prepare this yummy Recipe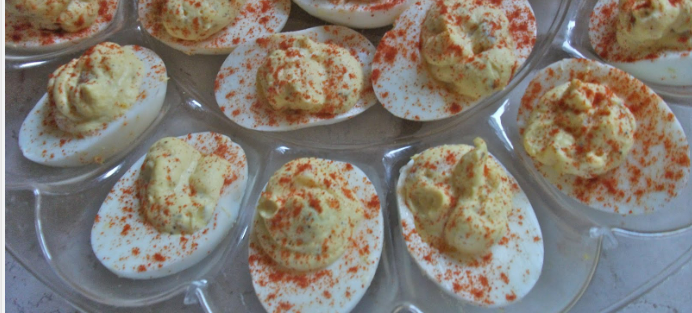 Ingredients
The first step in preparing deviled eggs with relish is to gather all the necessary ingredients. You will need:
6 eggs
2 tablespoons of mayonnaise
1 tablespoon of yellow mustard
2 tablespoons of sweet pickle relish
Salt and pepper to taste
Paprika for sprinkling on top
Chives or parsley for garnish
Steps to Prepare Southern Deviled Eggs Relish Recipe
Step 1: Boiling the Eggs
Once you have all the ingredients together, the next step is to prepare the eggs. Begin by placing the eggs in a pot and covering them with water. Bring the water to a boil, then reduce the heat and allow the eggs to simmer for 10 minutes. Once done, drain the hot water and place the eggs in a bowl of cold water. Allow them to cool for a few minutes before peeling.
Step 2: Preparing the Filling
After peeling the eggs, cut them in half lengthwise, scooping out the yolks and placing them in a separate dish. Mash the yolks with a fork, then add the mayonnaise, yellow mustard, and sweet pickle relish. Mix the ingredients well, and season with salt and pepper.
Step 3: Filling the Egg Halves
Now, spoon the filling into the hollows of each egg half. You can be creative and use a pastry bag to pipe the filling onto the egg halves, or you can use a spoon to do so. Once filled, sprinkle the tops with paprika for color.
Step 5: Garnish and serve
Finally, garnish the deviled eggs with chives or parsley and serve them immediately. These delicious deviled eggs are perfect for any party or gathering and are sure to impress your guests.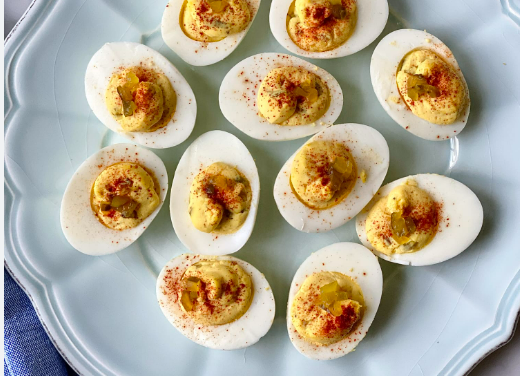 Final Words
In conclusion, deviled eggs with relish bring a refreshing twist to a classic appetizer that everyone will appreciate. This recipe takes only a few ingredients, and the preparation is quite simple. The next time you want to impress your guests with a unique and delicious dish, give this recipe a try. You won't be disappointed!