Homemade Biscuit Recipe: Ah, biscuits—the delicious, flaky, buttery treats that have been a staple of American cuisine for centuries. Whether you enjoy them as a side dish, a breakfast pastry, or simply as a snack, there's no denying that biscuits are a classic comfort food that can brighten up any meal. But what makes a perfect biscuit? Is it the texture, the flavor, or a combination of both? Luckily, we've got you covered with the best biscuit recipe that will satisfy all your cravings.
Indulge in the sublime delight of these homemade biscuits – velvety, tender, and crafted entirely from scratch. This incredibly simple biscuit recipe deserves an everlasting spot in your culinary repertoire. With an all-butter composition, it shines without any shortening!
Steps for Simple Biscuit Recipe
This is an easy homemade and easy biscuit recipe with baking powder used as the leavening. The biscuits turn out perfectly soft and flaky on the inside every time.
You can easily whip up these homemade biscuits with just six common ingredients that you probably already have. I've got you covered with lots of helpful tips (and even a video!) to ensure your biscuits turn out absolutely perfect every time you make them.
Ingredients Required:
2 cups all-purpose flour
1 tablespoon baking powder
1/4 teaspoon baking soda
1 teaspoon salt
6 tablespoons unsalted butter, cold and cut into cubes
1 cup buttermilk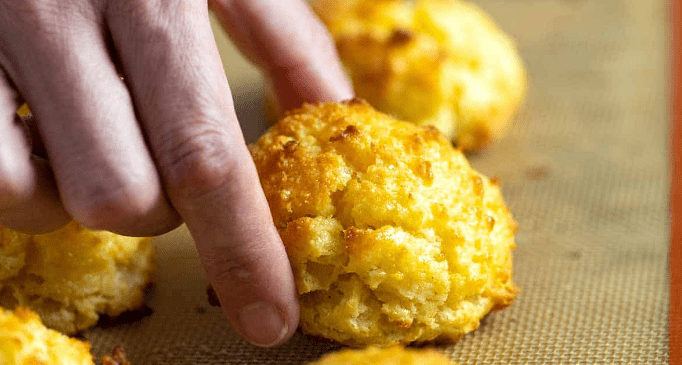 Instructions for Best Biscuit Recipe
Preheat your oven to 425F.
In a large bowl, whisk together the flour, baking powder, baking soda, and salt until well combined.
Add the cold butter to the dry ingredients, and use a pastry cutter or your hands to mix it until the butter is fully incorporated and the mixture is crumbly.
Pour in the buttermilk slowly and use a fork to stir it into the mixture until it forms a soft, sticky dough.
On a lightly floured surface, knead the dough a few times until it comes together.
Using a rolling pin, roll out the dough to about 1 inch thick.
Use a biscuit cutter or a glass to cut the dough into even circles (about 2-3 inches in diameter).
Place the biscuits onto a baking sheet lined with parchment paper, and bake for 12-15 minutes, or until golden and fluffy.
Enjoy warm with butter, jam, honey, or any other toppings of your choice.
Tips for Biscuit Recipe:
Always use cold butter, as the cold temperature helps keep the dough flaky.
Handle the dough gently and avoid over-kneading it, as this can cause the biscuits to become tough and dry.
Use a biscuit cutter or a glass with a smooth edge for the best shape.
For extra fluffiness, you can add a tablespoon of vinegar or lemon juice to the buttermilk before mixing it in.
Butter plays a pivotal role in this recipe, as it can either make your homemade biscuits absolutely amazing or utterly disappointing. Remember, the way you handle it is the key to culinary success.
Nutrition Facts of Biscuit (per serving)
| | |
| --- | --- |
| 191 | Calories |
| 11g | Fat |
| 20g | Carbs |
| 3g | Protein |
Nutrition Facts
Summary
Now that you have the perfect biscuit recipe, you can impress your family and friends with your baking skills. Whether you enjoy them as a side dish, a breakfast pastry, or simply as a snack, these biscuits are sure to satisfy your cravings and brighten up any meal. So go ahead and give this recipe a try—you won't regret it!