Winter is the perfect season for hot soups, and if you're looking for something hearty and satisfying, then veg thukpa soup is the perfect choice for you. This Tibetan Nepalese dish is perfect for warming up on cold winter nights, and it's packed full of vegetables, spices, and flavors that will keep you feeling satisfied for hours. If you're looking for an easy and tasty Veg thukpa soup recipe, then you're in the right place. This recipe is a one-pot wonder that will have you and your family warming up in no time.
What is Thukpa Soup?
Thukpa, a delightful noodle soup, has gained popularity as one of India's favorite dishes. Originating in the eastern part of Tibet, this culinary gem has made its way across borders, captivating the palates of Nepal, Bhutan, and various states in Northeast India such as Sikkim, Assam, and Arunachal Pradesh. Its fame extends even to the beautiful Ladakh region and the state of Himachal Pradesh. According to Wikipedia, Thukpa's journey has been one of cultural exchange and culinary excellence, leaving a lasting impression on the taste buds of countless individuals.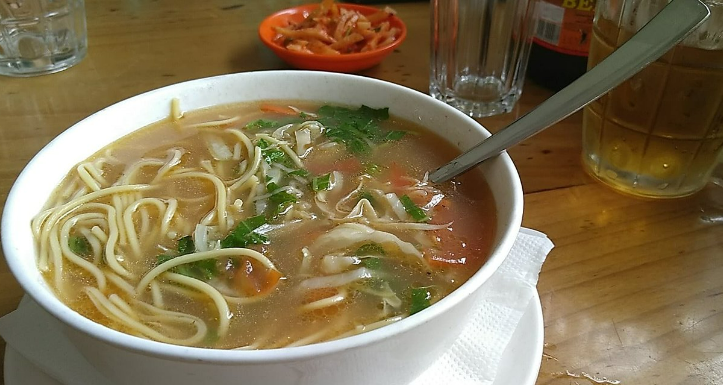 Here are the steps to make a tasty Thukpa Recipe.
Thukpa soup is perfect for a cozy night in, and it's perfect for vegetarians or vegans looking for a filling dish packed full of vegetables. Here's what you'll need:
Ingredients:
1 tbsp ginger, grated
1 tbsp garlic, grated
1 onion, chopped
2 carrots, chopped
2 stalks of celery, chopped
1 small cabbage, chopped
1 tsp turmeric powder
1 tsp cumin powder
1 tsp coriander powder
1 tsp red chili powder
1 tsp garam masala powder
2 tbsp oil
Salt to taste
1-liter vegetable stock
1 packet of noodles (cooked)
Instructions for Thupka Recipe
Heat the oil in a large pot and sauté ginger, garlic, and onion for a minute.
Add the chopped carrots, celery, and cabbage, and sauté for another five minutes.
Next, add all the spices (turmeric, cumin, coriander, chili, and garam masala powder) and salt to taste, and sauté for another two minutes.
Pour the vegetable stock and let it simmer for 20 minutes.
Add the cooked noodles and let it cook for another two minutes.
Serve hot, garnished with fresh coriander leaves.
This recipe is flexible, and you can add or reduce the vegetables as per your preference. Also, feel free to use any noodles of your choice, or you can use rice instead.
Thukpa soup is not only easy to make, but it's also packed with nutrients and antioxidants that your body needs to stay healthy and strong. This soup is perfect for those cold days when you don't want to go out and need something warm and comforting.
Final Words
Veg thukpa soup is a dish that will please everyone in your family. It's the perfect one-pot meal, and it's full of nutrients and flavor that your body will thank you for. The recipe is easy, and you can adjust it as per your taste preferences. So, the next time you're craving something warm and comforting, try this thukpa soup recipe, and you won't be disappointed!
Video on Veg Thupka Recipe
FAQs
What does thukpa taste like?
The Nepalese have a penchant for spicy food, and their rendition of thukpa is no exception. A fiery kick is not only derived from the addition of chili powder, but it also lends an appealing hue to the dish. Some even dare to incorporate garam masala into the mix. Throughout the city, quaint little shacks and restaurants proudly serve delectable bowls of thukpa.
What is the difference between ramen and thukpa?
"Ramen stands apart from dishes like Thukpa due to its utilization of alkaline noodles," he explains. These wheat-based noodles are immersed in kansui, a mixture of water and alkaline salts such as baking soda. As a result, the noodles acquire a delightful chewiness and resilience, remaining delectably firm even when submerged in the soup.
Is thukpa noodles healthy?
Thpa, whether vegetarian or non-vegetarian, is a nourishing and comforting one-pot meal. With a medley of wholesome ingredients, this noodle soup offers an array of incredible health benefits. Onions, rich in vitamins, minerals, and phytochemicals, aid in promoting a healthy digestive system with regular consumption. Indulging in a bowl of thukpa not only satisfies your taste buds but also supports your overall well-being.
Is thukpa a Korean dish?
No, its not a Korean dish. Thukpa, a delectable soupy delicacy, finds its roots in Eastern Tibet. This tantalizing dish marries Tibetan-style noodles with a medley of crisp vegetables or succulent chicken, all generously bathed in a savory, clear broth.