Peach Cobbler Recipe with Cake Mix: Summer is the perfect time to enjoy delicious fruity desserts, and one of the best ones out there is definitely peach cobbler. This classic Southern dessert is a crowd-pleaser that everyone loves, and the good news is that it doesn't have to be complicated to make. In fact, you can make it with just a few simple ingredients, including cake mix. Whether you're an experienced baker or a newbie in the kitchen, you can easily whip up a delicious peach cobbler with a cake mix. Here's how:
Peach Cobbler Recipe With Cake Mix
Gather your ingredients
To make peach cobbler with cake mix, you'll need a few key ingredients:
1 box yellow cake mix
1/2 cup (1 stick) unsalted butter, melted
1 can (29 ounces) sliced peaches in syrup
1 teaspoon ground cinnamon
1/4 teaspoon ground nutmeg
Whipped cream or vanilla ice cream (optional)
Steps to Make Peach Cobbler Recipe With Cake Mix
Preheat your oven
Preheat your oven to 375 degrees F.
Prepare the cake mix
In a medium bowl, combine the cake mix, melted butter, cinnamon, and nutmeg. Stir until well combined and the mixture is crumbly.
Prepare the peach filling
Drain the peaches, reserving the syrup. Pour the syrup into a 9×13-inch baking dish and spread it around evenly. Next, arrange the peaches on top of the syrup.
Add the cake mix topping
Sprinkle the cake mix topping over the peaches, making sure it covers them completely.
Bake your peach cobbler
Bake your peach cobbler for 35–40 minutes, or until the topping is golden-brown and the peaches are bubbling.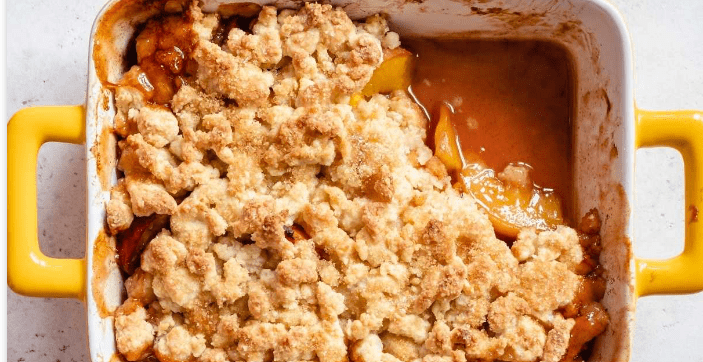 Serve and enjoy
Let your peach cobbler cool for a few minutes before serving it. You can scoop it into bowls and top it with whipped cream or vanilla ice cream for an extra indulgent treat.
Final Words
The peach cobbler recipe with cake mix is a delicious and easy dessert that's perfect for summer cookouts, potlucks, or just a classic Sunday dinner. With just a few simple ingredients and steps, you can make a crowd-pleasing dessert that everyone will love. So go ahead and give this recipe a try; we promise you won't regret it!