Velveeta Mac and Cheese Recipe: Mac and cheese is, without a doubt, one of the most popular comfort foods ever. There is just something about this classic dish that brings back memories of childhood, warmth, and happy times. However, the pre-packaged mac and cheese doesn't always deliver the creamy, indulgent flavor we crave. This is where the homemade Velveeta Mac and Cheese recipe comes in! It is the perfect combination of creamy, rich, and delicious. In this blog post, we will provide all the instructions you need to make the ultimate comfort food – Velveeta Mac and Cheese recipe.
Velveeta Mac and Cheese Recipe
Velveeta, a shelf-stable cheese product, is crafted from a blend of fine ingredients such as whey, milk, milk protein concentrate, modified starch, canola oil, and cheese culture. With its smooth texture, mild flavor, and vibrant orange color, Velveeta truly excels in its unmatched melting ability, making it an excellent foundation for delectable dips. In the following segment, we will divulge a tantalizing recipe that showcases the pure deliciousness of this remarkable cheese.
Ingredient for Velveeta Mac and Cheese Recipe:
2 cups elbow macaroni
4 tablespoons butter
1/4 cup all-purpose flour
2 cups milk, warmed
1/2 teaspoon garlic powder
Salt and pepper
1 pound Velveeta, cut into 1-inch cubes
Instructions for Velveeta Mac and Cheese Recipe:
Cook the elbow macaroni according to the package instructions. Drain and set aside.
While the pasta is cooking, prepare the cheese sauce. Melt the butter in a large saucepan over medium heat. Slowly whisk in the flour, stirring constantly until smooth and bubbly. Gradually stir in the warmed milk and garlic powder. Stir constantly until the mixture begins to thicken.
Add the Velveeta to the milk mixture, a few cubes at a time, stirring constantly until all the cheese has melted and the sauce is smooth.
Add the cooked macaroni to the cheese sauce and stir until well-coated—season with salt and pepper to taste.
Serve hot and enjoy!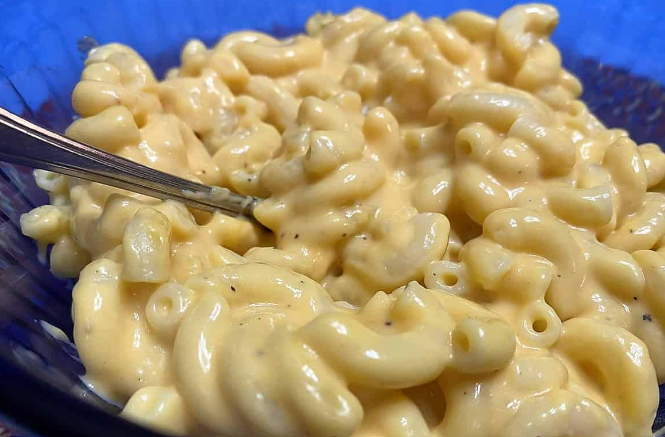 Variations of Velveeta Mac and Cheese Recipe:
You can customize the recipe to your liking by adding a few additional ingredients. For example, you can add bacon bits, diced onions, jalapenos, or breadcrumbs on top to add some crunch. Also, you can add other types of cheese like cheddar cheese, cream cheese, or Parmesan cheese to create a different flavor profile altogether. The possibilities are endless!
Is Velveeta mac n cheese good?
Velveeta is the epitome of nostalgic cheese, evoking memories of my childhood. Its smooth texture creates the most delectable cheese sauce, making mac and cheese irresistibly gooey, cheesy, and creamy. Velveeta shells and cheese embody the ultimate taste memory, transporting me back to the joyous moments of my youth.
What cheese is best for mac and cheese?
Gruyere is a timeless choice, as it not only melts like Cheddar but also boasts a delightful nutty flavor. Alongside Gruyere, other classics like Gouda, Muenster, Parmesan, fontina, Havarti, and Monterey Jack reign supreme. Brie also harmonizes excellently; just remember to discard the rind before blending it in.
How to keep mac and cheese creamy?
Cook your noodles in milk instead of water

Replacing water with milk when cooking noodles results in a creamy sauce even before adding the cheese. As the noodles cook, their starches are released, contributing to a thicker mixture from the outset. This method not only enhances taste but also creates a velvety texture from the start.
Final Words
A dish of homemade Velveeta Mac and Cheese recipe is the ultimate comfort food. Combining rich, creamy cheese sauce with al-dente elbow macaroni is pure bliss. Plus, with just a few ingredients and easy-to-follow instructions, you can make this delicious dish in no time. Whether you want a quick fix for your cravings or to impress your guests with a classic dinner, this recipe never fails. Once you try this mac and cheese recipe, you might never go back to store-bought again.