Are you a fan of Taco Bell's Mexican pizza? Do you wish you could enjoy it from the comfort of your own home? Well, you're in luck! In this blog, we'll be sharing with you the famous Taco Bell Mexican Pizza Recipe. Not only is this recipe easy to follow, but it's also budget-friendly. So, whether you're a food lover or a housewife looking for a new recipe to try, keep reading!
What's in the Taco Bell Mexican Pizza?
The Mexican Pizza, known as the Pizzazz Pizza in its early days, is a delightful offering on the menu of Taco Bell, a popular chain in the United States. This culinary creation features a mouthwatering combination of two tortillas embracing a savory filling of seasoned beef and refried beans. Adorned with a delectable tomato sauce, a trio of cheeses, and perfectly diced tomatoes, it is a true masterpiece that tantalizes the taste buds.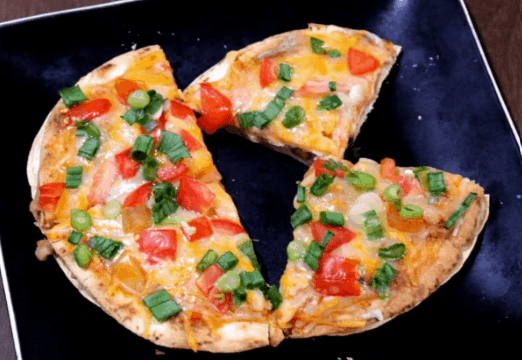 Taco Bell Mexican Pizza Recipe
Discover the comprehensive, step-by-step guide for crafting your very own Taco Bell Mexican Pizza in the comfort of your own home.
Required Ingredients:
Below are some for the ingredients required to make tasty taco bell mexican pizza copycat recipe.
8 6-inch flour tortillas
1 can of refried beans
1 pound of ground chicken
1 packet of taco seasoning
1/2 cup of water
1 cup of shredded cheddar cheese
1/2 cup of diced tomatoes
1/4 cup of sliced black olives
1/4 cup of green onions
Sour cream and guacamole for serving
Instructions on How to Make Mexican Pizza:
Preheat the oven to 400°F.
Place 4 of the flour tortillas on a baking sheet and spread a layer of refried beans on each one.
In a skillet, cook the ground beef until no longer pink, breaking it up as you cook it.
Drain any excess fat from the beef and then add the taco seasoning and 1/2 cup of water. Stir together until the seasoning is well distributed.
Place a layer of the cooked ground beef on top of the refried beans on each of the tortillas.
Sprinkle shredded cheddar cheese on top of the beef.
Top with another tortilla and repeat the process, spreading refried beans on the tortilla, adding the ground beef, and sprinkling with cheese.
Bake the tortillas in the oven for 10-12 minutes or until the cheese is melted and bubbly.
Remove the baking sheet from the oven and let it cool for a few minutes.
Top the pizzas with diced tomatoes, sliced black olives, and green onions.
Serve with sour cream and guacamole on the side.
Recipe Tips:
Add your favorite toppings like jalapeños, bell peppers, or shredded lettuce.
If you want to avoid using refried beans, you can use black beans, pinto beans, or even hummus as a substitute.
Instead of flour, opt for corn tortillas. For an extra crispy texture, transfer the pan-fried tortillas to a baking sheet and bake at 350 degrees F (175 degrees C) for 5 to 7 minutes.
To transform this into a vegetarian option, simply omit the ground chicken. When purchasing beans from the store, be sure to opt for vegetarian varieties.

Cook Time for Taco Bell Mexican Pizza Recipe
This Taco Bell Mexican Pizza recipe takes about 15 minutes to prepare, and 25 minutes to cook. During preparation time, you'll need to brown the ground beef and season it with taco seasoning. You'll also want to prep the other ingredients such as slicing green onions, shredding cheese, and chopping lettuce. Once everything is prepped, assemble the pizzas by spreading them.
Video on Taco Bell Mexican Pizza Recipe
Final Words
In conclusion, making Taco Bell Mexican pizza Recipe at home is a fun and easy way to enjoy your favorite fast food dish without leaving your house. With just a few simple ingredients and some kitchen know-how, you can create a delicious meal that your whole family will love. We hope this recipe inspires you to get creative in the kitchen and try something new. Happy cooking!
FAQs
What is a Mexican Pizza made out of at Taco Bell?
Taco Bell Mexican Pizza Recipe consists of seasoned chicken and refried beans between two fried flour tortillas, topped with pizza sauce, a three-cheese blend, and fresh diced tomatoes.
What is in Taco Bell Mexican Pizza sauce?
The Taco Bell Mexican Pizza sauce is crafted with a tomato base that boasts a zesty blend of flavors derived from green chiles, onions, and an array of spices. Its taste reminiscent of a harmonious blend between a classic red pizza sauce and the exquisite essence of enchilada sauce or salsa.
Why did they stop selling Mexican Pizza at Taco Bell?
Taco Bell's CEO revealed that after being featured on the menu since its inception in 1985, the renowned item known as "Pizzazz Pizza" faced an unexpected discontinuation in 2020 as a consequence of the pandemic. CEO King highlighted the item's labor-intensive nature as a contributing factor for this decision.
Is Taco Bell bigger than McDonald's?
Taco Bell falls short in comparison to McDonald's in terms of size. With only 7,000 locations in the US, McDonald's dominates with 13,000. McDonald's also outshines Taco Bell in net worth, boasting a staggering $167.91 billion compared to Taco Bell's $32.95 billion.