We know you love donuts, but have you ever tried making mochi donuts at home? These Japanese-inspired donuts combine the crispy on the outside, chewy, and gooey on the inside texture of mochi with the indulgent sweetness of a classic donut. The result is a unique, enjoyable flavor and texture experience for your taste buds!
What Are Mochi Donuts?
Mochi donuts embody the delightful fusion of cake donuts and chewy Japanese rice cakes known as mochi. Crafted from glutinous rice, or polished sticky rice, these delectable treats often feature gluten-free tapioca flour or glutinous rice flour. Although certain recipes may include all-purpose flour, mochi donuts can be made entirely gluten-free, offering a versatile and enticing treat for all.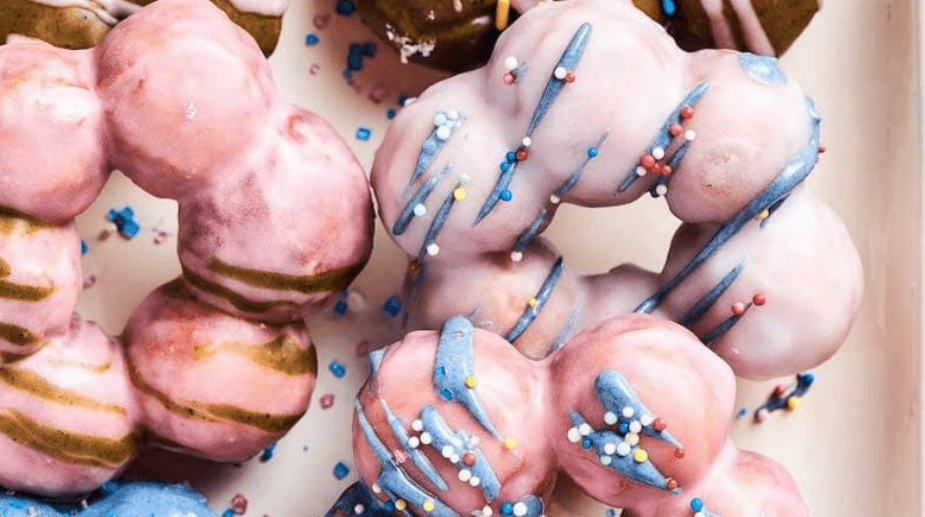 Significance of Mochi Donuts
Mochi, a delightful Japanese delicacy, holds a special place in celebratory traditions. It graces the tables during the Japanese New Year soup ozoni, as well as the renowned kagami mochi (mirror cakes). During cherry blossom season, anko-filled mochi wrapped in delicate cherry leaves enchants the taste buds. Across the globe, regions with vibrant Japanese communities have added their own unique twists to this beloved treat. In Hawaii, butter mochi reigns supreme, a delectable baked confection made with sweet rice flour and coconut milk. Meanwhile, the trendsetting mochi donuts originated in Japan and gained popularity in the United States, thanks to their introduction in Hawaii.
Types of Mochi Donuts
Mochi donuts can be crafted using two distinct types of flour, each offering its own unique characteristics:
Pon de ring donuts: These delectable pull-apart donuts are crafted using tapioca flour. The renowned pon de ring style takes inspiration from pao de queijo, a delightful Brazilian cheese puff that also makes use of tapioca flour.
Glutinous rice flour donuts: The mochi donut recipe style in the United States makes use of glutinous rice flour, which is also known as sweet rice flour.
Mochi Donuts Recipe:
Making mochi donuts at home is a fantastic idea – not only do you get to enjoy your favorite treat, but you can also customize the flavors and toppings to your liking. The best part is, making mochi donuts is incredibly easy! So, let's dive into the steps of how to make mochi donuts at home:
Ingredients:
For the mochi dough:
2 cups of mochiko (sweet rice flour)
½ cup of sugar
1 tsp of baking powder
1 egg
2 tbsp of melted butter or vegetable oil
1 cup of milk
1 tsp of vanilla extract
For the toppings:
Powdered sugar
Chocolate sauce
Matcha powder
Sprinkles
Crushed peanuts
Steps to Make Mochi Donuts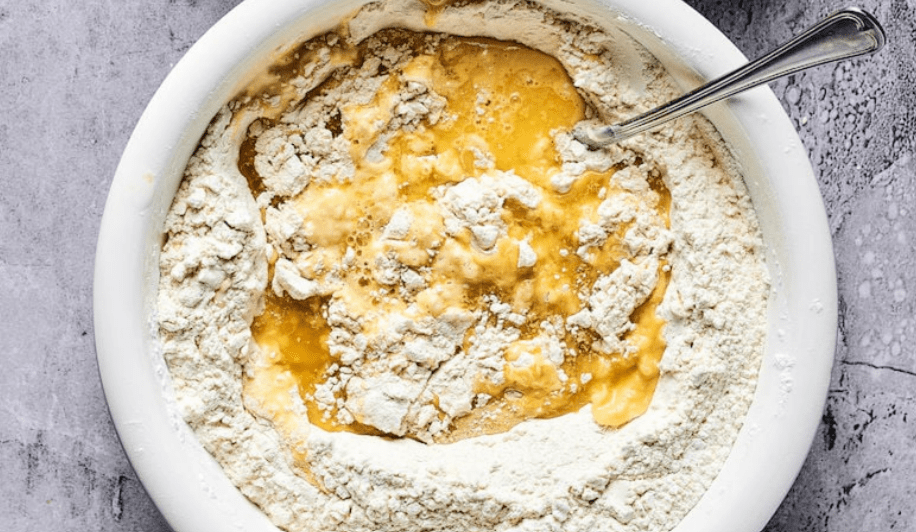 Preheat your oven to 350°F (180°C) and line a baking sheet with parchment paper.
In a large bowl, whisk together the mochiko, sugar, and baking powder.
In a separate mixing bowl, beat the egg and then add melted butter or vegetable oil, milk, and vanilla extract. Mix well.
Now, gradually pour the wet ingredients into the dry ingredients. Stir until the batter comes together and forms a smooth, sticky dough.
Next, dust your clean working surface with extra sweet rice flour, remove the dough from the mixing bowl, and knead it into a round ball.
Sprinkle some flour to prevent the dough ball from sticking to your hands and divide it into eight equal pieces.
Roll each piece into a ball and then flatten it slightly.
Use a donut cutter or any round-shaped cookie cutter to remove the center of the flattened dough.
Now, place the cut-out donuts onto the prepared baking sheet and bake them for about 20-25 minutes until lightly golden brown.
Once done, let the mochi donuts cool completely before serving.
Now, it's time for toppings! Dip the cooled mochi donuts into chocolate sauce, sprinkle some powdered sugar, crushed peanuts, or add some matcha powder for a green tea twist!
Tips for Good Taste:
Do not overfill your donut pan with batter to avoid ruining its shape as they'll rise and fill the pan while baking.
Use silicone donut pans for the best results as they produce a more uniform donut shape.
If you prefer crispy mochi donuts, bake them for a longer time.
Video on Mochi Donuts Recipe
Final Words
And there you have it, a simple recipe for mochi donuts that you can make and enjoy at home. The steps are easy to follow, and you can make these donuts in no time with the right ingredients. Choose your favorite toppings and let your creativity shine! Have fun baking and enjoy your delicious mochi donuts!
FAQs
What makes a mochi donut different?
Mi donuts and Pon de ring share some similarities, yet their distinguishing features lie in their ingredients and texture. Mochi donuts, crafted from glutinous rice flour (also known as sweet rice flour), boast a delightful density and chewiness. On the other hand, Pon de ring, composed of tapioca flour, lends itself to a softer and more airy composition.
Do mochi donuts actually have mochi?
These delectable treats are commonly known as "mochi donuts" due to their delightfully soft and chewy texture. However, it's important to note that the original Pon de Ring donuts do not actually include any mochi in their ingredients.
What do mochi donuts taste like?
Mochi donuts possess a subtle sweetness when enjoyed solo. These delightful treats blend the best of American doughnuts and Japanese mochi, offering a delightful combination of bounce and chewiness accompanied by a light, airy center, and crispy outer shell. The magic behind the unparalleled texture of mochi donuts lies in the inclusion of tapioca starch.
Are mochi donuts better than donuts?
Mochi donuts offer a healthier alternative to regular doughnuts, with approximately half the calories. Notably, they are also gluten-free, making them a delightful choice for individuals with dietary restrictions.
Which Flavour is best for doughnut?
Apple Fritters
Key Lime Coconut Donuts
Banana Bread Donuts with Browned Butter Caramel Glaze
Strawberry Cake Donuts
Mint Chocolate Donuts
Peanut Butter Glazed Chocolate Donuts Recipe
Sticky Orange Olive Oil Baked Donuts
Pineapple Upside-Down Donuts.