Are you a lover of strawberries? Do you want a refreshing drink that you can prepare at home? If you answered yes to both questions, then you are in the right place. In this blog post, we will show you how to make one of the tastiest fresh strawberry juice you have ever tasted, and you don't have to leave your home for it. You don't need to be an expert in the kitchen to whip up this recipe. Be sure to grab your strawberries and let's get started.
About Strawberry Juice
Strawberries can elevate your favorite sweet treats, whether it's in Shortcakes or Cream Cakes. Their lusciousness makes them a perfect ingredient to cherish and enjoy.
Strawberries are not only perfect for baking, but also a delightful addition to dishes like fruit salad and refreshing no-cook summer recipes. When I find myself with an abundance of strawberries and lack the time or desire to cook, I always turn to this scrumptious strawberry milkshake. It's a fantastic way to savor the freshness of the berries.
Fruit shakes not only tantalize the taste buds but also offer a quick and effortless preparation requiring just 10 minutes and a handful of wholesome ingredients. Indulge in the delightful flavors while savoring the nourishment they provide.
How to Make Strawberry Juice at Home
Here we're going to let you know how to make your very own fresh strawberry juice with just a few simple ingredients. To make a tasty strawberry Juice, you will need to follow the given steps:
Step 1: Get your ingredients ready
The first step to making yummy strawberry juice is to get your ingredients ready. You will need the following: Make sure all following ingredients are fresh to get good results.
Ingredients Required for Strawberry Juice:
1 pound of strawberries
1/2 cup of sugar
1/2 teaspoon of salt
1/2 cup of water
Juice of 1 lemon
Step 2: Wash the strawberries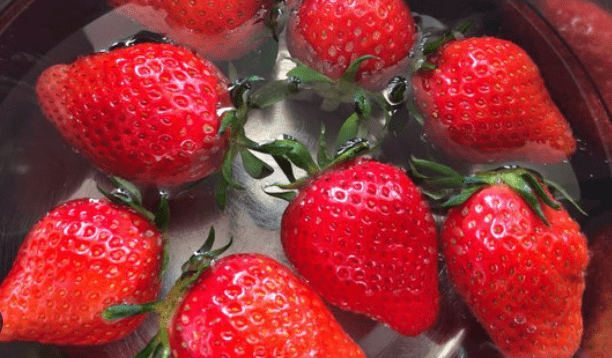 Once you have all the ingredients ready, wash the strawberries under running water. Remove the stems and leaves and cut the strawberries into small pieces. Place the strawberry pieces in a blender, and blend until smooth.
Step 3: Prepare the sugar syrup
In a saucepan, combine 1/2 cup of water, 1/2 cup of sugar, and 1/2 teaspoon of salt. Heat the mixture on medium heat while stirring occasionally until the sugar dissolves. Remove from heat and let it cool.
Step 4: Strain the mixture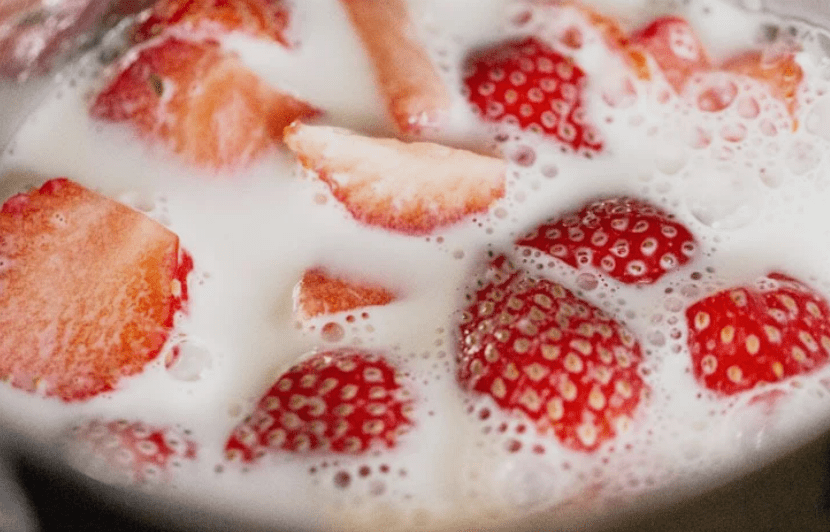 Get a strainer and place it over a large bowl. Pour the strawberry mixture over the strainer to remove any seeds or pulp. Gently press the pulp with your spatula to extract all the juice. Discard the leftover pulp.
Step 5: Combine the syrup and strawberry juice
Now that you have successfully made strawberry juice, add the cooled sugar syrup and juice of one lemon to it. Stir well to combine all the ingredients. You can add more water if you want to dilute the juice further.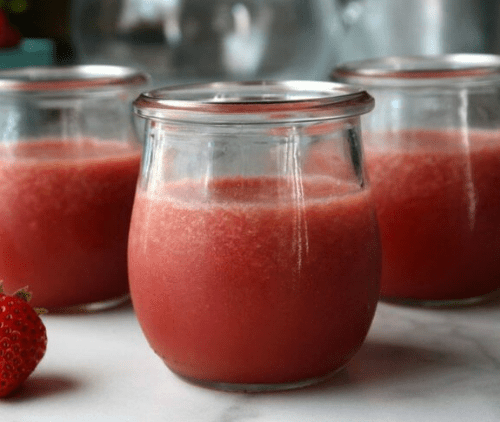 Some Helpful Tips
Strawberries: For good results, opt for sweet and ripe strawberries. This will obviate the need for additional sweeteners, making this milkshake recipe a healthier choice.
Creamy thick shakes: For a thicker and creamier shake, try using frozen strawberries. To freeze fresh strawberries, rinse and hull them, then place them on a baking sheet and keep them in the freezer for an hour or so before blending. Enjoy the perfect shake!
Flavoring options: Enhance your blend by introducing a dash of creativity with flavorings like vanilla extract, ground cinnamon, mint leaves, lavender, or ground green cardamom. Embrace a world of possibilities while blending to create a truly delightful experience.
Ice cream shake: To achieve an incredibly rich and velvety milkshake, enhance the blend by incorporating two to three generous scoops of vanilla or strawberry ice cream.
Serving Ideas:
Indulge in the delightful flavors and creamy texture of a strawberry shake made with milk and honey, the perfect beverage for a kids' party. Enjoy it as a refreshing breakfast drink or as a delectable addition to any gathering.
Final Words:
Voila! You have made the most refreshing strawberry juice at home. Now that you know how to make it, you can customize it to your preference and avoid artificial drinks. The recipe is straightforward and easy to follow, so why not add it to your favorite drinks and surprise your guests with your culinary skills? A glass of this juice is perfect for a hot summer day or a gathering with friends and family. We hope you enjoyed this recipe and encourage you to share it with your friends and family. Happy juicing!
FAQs
Is strawberry juice a thing?
Indulge in the delightful and refreshing taste of strawberry juice, a sweet and nutritious drink crafted from the pure essence of strawberries. With just one ingredient and a mere 5 minutes of your time, you can effortlessly create a batch of this delectable beverage using a blender, juicer, or food processor.
Benefits of strawberry Juice
There are many Strawberry juice benefits:
-Because strawberries contain high levels of vitamin C which is good to Boost the –Immune System.
-Supports Heart Health
-Promotes Bone Health
-It Improves Digestion
-Promotes Healthy Skin
-Regulates Blood Sugar
Is strawberry juice hydrating?
Consuming strawberry juice can effectively hydrate your body, thanks to its rich water content. Moreover, this delightful beverage is packed with soluble fibers that seamlessly dissolve in water and gastrointestinal fluids upon entering the stomach and intestines. Ultimately, it's a refreshing way to quench your thirst while keeping your body well-hydrated.
What will you need to make strawberry juice?
-1 pound of strawberries
-1/2 cup of sugar
-1/2 teaspoon of salt
-1/2 cup of water
-Juice of 1 lemon
What are the Nutrients in Strawberry Juice?
Strawberry juice is a rich source of essential nutrients such as vitamin C, folic acid, potassium, manganese, zinc, copper, vitamin E, B-complex vitamins, calcium, polyphenolic compounds, and natural sugars. These beneficial components exert measurable effects on various physiological systems, contributing to overall health and well-being.
What is the best time to drink strawberry juice?
What is the ideal time to enjoy strawberry juice? The best time to savor strawberry Juice is in the early morning, preferably before noon. It is advised to avoid consuming Strawberry Juice during meals, as it can contribute to an incremental rise in blood sugar levels.