A club sandwich recipe is a classic, well-loved sandwich that is perfect for any meal of the day. With layers of turkey, bacon, lettuce, tomato, and mayonnaise, it is one of the most famous and delicious sandwiches in the world. Everyone loves club sandwiches, and you can make them yourself at home. In today's blog post, we will share with you the secret to making a perfect club sandwich recipe at home.
What is a Club Sandwich?
Probably the most obvious sign that you're getting a club sandwich is the unique way it is stacked with three layers of bread and then cut into quarters and secured with a toothpick.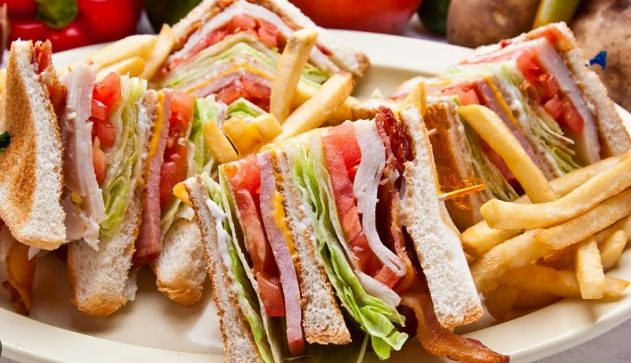 Club Sandwich Recipe
Ingredients:
Here are the ingredients you'll need to make the best club sandwich recipe:
Bread: Use any bread, but white or wheat bread is the best option
Turkey: Roasted turkey or deli turkey
Bacon: Cooked bacon
Lettuce: Iceberg lettuce
Tomato: Ripe, sliced tomatoes
Mayonnaise: For a club sandwich recipe, you'll need mayonnaise.
Cheese: Slices of cheddar cheese are classic for a club sandwich recipe.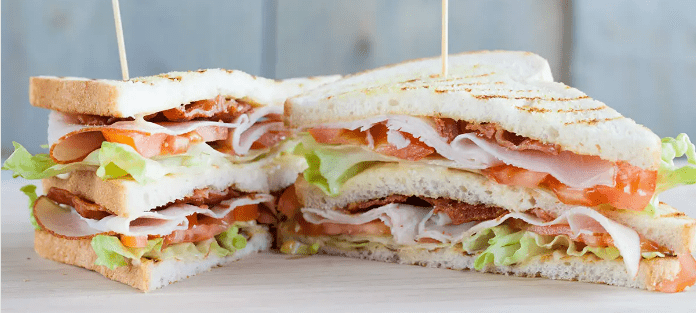 Directions:
Toast the bread to golden brown.
On one piece of bread, spread mayonnaise generously.
Top with lettuce, turkey, cheese, bacon, and tomato.
Spread mayonnaise onto the other slice of bread and place it on top.
Insert toothpicks into the sandwich through the layers in order to hold the sandwich together.
Cut the sandwich into quarters
Tips:
Use fresh ingredients for the best flavor.
Toasting your bread will make it crispy and able to hold the ingredients better.
Use toothpicks to keep all the ingredients from falling out.
Variations:
Add avocado for an extra dimension of flavor or for a vegetarian option.
Use different bread such as sourdough or rye bread.
Add a fried egg and make it a club sandwich with an egg recipe.
Final Words
A club sandwich is a beloved classic everyone can enjoy. With fresh ingredients, the right choice of bread, and a little know-how, you can easily make one at home. Follow the directions above, and use quality ingredients and grilled ingredients to perfection. Whether you're making it for lunch, dinner, or a snack, it's a perfect sandwich for any time. Enjoy!