Leche Flan Recipe is a staple dessert in the Philippines, Spain, and Latin America. Food lovers all over the world adore this spongy caramel topping on a creamy, egg-based custard dessert. It's a luxurious treat that looks and tastes so good that people often think it's hard to make. But the truth is, it's easier than you think! Embrace your inner chef, grab your ingredients, and follow this luscious guide to make the perfect leche flan.
What is Leche flan?
Leche Flan Recipe is a dessert food made-up of eggs and milk with soft caramel on top. It resembles crème caramel or caramel custard. This delicious dessert is known throughout the world.It has been a regular item on the menu of most restaurants because of its taste, ease of preparation, and long shelf life. It can also be added as a component to other great-tasting dessert creations.
Best Leche Flan Recipe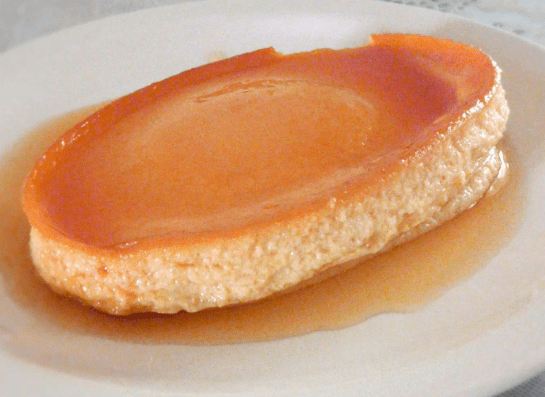 Ingredients:
Here are the fresh ingredients required for preparing the whole egg leche flan recipe:
10 large egg yolks
1 can of condensed milk
1 cup of evaporated milk
1 Tablespoon of vanilla extract
1 cup of sugar
1/4 cup of water
Steps to Making Tasty Leche Flan
This tasty and Easy Flan Recipe includes the following steps:
1. Prepare your mold
Get a flan mold, if you don't have one, you can use a deep, round baking dish or a ramekin.
Put the sugar and water in the mold and slowly melt it on medium heat, making caramel by continuing to stir it until it turns golden brown.
Pour the caramel evenly on the bottom of the mold.
2. Make the egg mixture
Whisk the egg yolks, evaporated milk, and condensed milk together until the mixture is smooth.
Add the vanilla extract and whisk again.
Strain the mixture to remove any lumps and pour it into the caramel-lined mold.
3. Bake the Flan
Preheat your oven to 325°F (160 °C).
Prepare a water bath by filling a casserole dish or deep baking pan halfway with warm water.
Put the flan mold into a larger baking dish and place it in the water bath.
Cover the mold with aluminum foil, making sure it's tightly sealed.
Place the baking dish into the oven and bake for 60 minutes or until the flan sets. Check the flan by inserting a knife into the center. If it comes out clean, the flan is done.
4. Cool the Flan
Once the flan is done, carefully take it out from the oven and cool it down before serving.
Before serving, place a plate on top of the mold and invert the flan onto the plate.
5. Garnish and Serve
Slice the flan into portions and top with fruit or caramel sauce, if desired.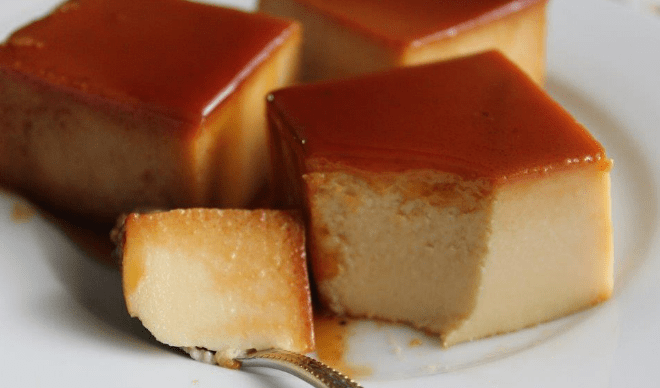 Nutrition Information of Leche Flan
Calories: 239kcal, Carbs: 31g, Protein: 7g, Fat: 10g, Saturated Fats: 5g, Cholesterol: 215mg, Sodium: 82mg, Potassium: 231mg, Sugar: 30g, Vitamin A: 418IU, Vitamin C: 1mg, Calcium: 194mg, Iron: 1mg
Video on Leche Flan Recipe
Summary
Now that you know how to make a tasty leche flan, it's time to explore new variations and serve this dessert to your guests. This recipe is easy to follow, and you can experiment with the texture by adding or reducing the condensed milk and sugar content. The result is a silky-smooth dessert that is sophisticated, elegant, and mouth-wateringly delicious. So, next time you are hosting a party, dazzle your friends and family with a homemade leche flan, and they will keep coming back for more!
FAQs
What is the common mistake in making leche flan?
One frequent error when preparing flan is overcooking it. To avoid a tough and rubbery texture, it is crucial to cook the flan for only a few minutes.
What is the difference between Mexican flan and leche flan?
Mexican flan is sometimes referred to as flan Napolitano, and it typically features cream cheese as one of its ingredients. On the other hand, leche flan incorporates egg yolks, condensed milk, and evaporated milk.
Can I use milk instead of evaporated milk for flan?
To create a foolproof alternative to evaporated milk, prepare your own substitute. In a saucepan, take around 60 percent more milk than the recipe requires, bring it to a boil, and then gently simmer until you achieve the desired quantity. This method ensures you maintain the same essence while elevating the writing quality, making it more eloquent, readable, and engaging.
Is leche flan like creme brulee?
Leche Flan, the Filipino counterpart of Crème brûlée and also referred to as Crème caramel, presents a distinct variation in its characteristics. Unlike its European counterpart, leche flan boasts a gelatinous texture rather than a smooth and creamy pudding-like consistency. Additionally, the cooking method for preparing leche flan differs from the conventional approach used for crème brûlée.