Tasty Hominy Grits Recipe: Are you looking for a classic Southern dish that will satisfy your cravings for a hearty breakfast or a warm and comforting dinner? Hominy grits are an iconic dish that will fit the bill. Made from ground hominy corn, grits have a creamy texture and mild flavor that make them a favorite comfort food among many food lovers. Whether you like your grits plain, flavored, or with toppings, this hominy grits recipe is sure to satisfy all your cravings.
Why Hominy Grits?
Yellow Hominy Grits are an excellent source of dietary fiber, providing about 1.7 grams of fiber for every serving. This makes it very beneficial for regulating digestion and maintaining gut health. Additionally, it provides a low amount of fat, making it ideal for anyone on a low-fat diet. Hominy Grits also provide energy that lasts longer, thanks to its low glycemic index.
How to make Hominy Grits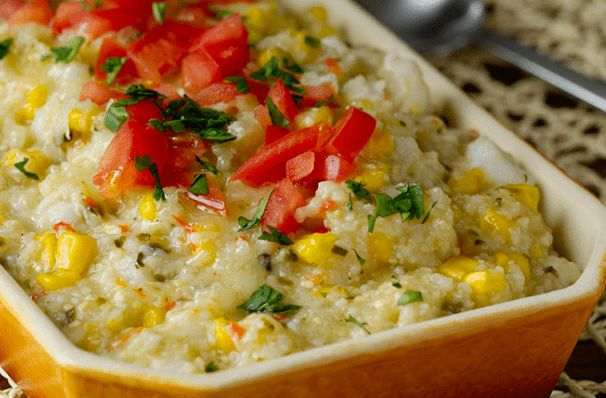 Ingredients
To make this hominy grits recipe, you will need the following ingredients:
1 cup hominy grits
4 cups water or chicken stock
¼ cup milk
2 tablespoons unsalted butter
Salt and pepper to taste
Instructions:
In a medium saucepan, bring 4 cups of water or chicken stock to a boil over high heat.
Add 1 cup of hominy grits to the boiling liquid and stir to combine.
Reduce the heat to low and let the grits simmer for 20–25 minutes, stirring occasionally.
Once the grits have cooked and reached the desired consistency, stir in ¼ cup of milk and 2 tablespoons of unsalted butter until fully combined.
Season with salt and pepper to taste.
To serve, you can pair your hominy grits with a variety of toppings like crispy bacon, sautéed mushrooms, grilled shrimp, or even scrambled eggs. The possibilities are endless!
Additional Tips:
You can add grated cheese to the Hominy Grits mixture for a creamier texture.
For added flavor, you can also fry some Crispy Bacon bits until they are crispy, and mix them into your Hominy Grits mixture.
You can also add seafood, such as Shrimp or Crab meat, to elevate your Hominy Grits recipe.
Hominy grits are also a versatile ingredient that can be used in many other dishes like casseroles, fritters, or even as a breading for fried chicken. You can also add some variety to your hominy grits by swapping out the water or chicken stock for vegetable broth, coconut milk, or even beer!
Summary
Hominy grits are a delicious and versatile ingredient that every food lover should have in their kitchen. This simple hominy grits recipe can be easily tailored to your liking, making it the perfect comfort food for any meal. Experiment with different toppings and flavors to find your own unique twist on this Southern classic. Who knows, hominy grits might just become your new favorite dish.