Are you struggling to find a healthy breakfast option that is both tasty and convenient? Look no further than overnight oats! Here we will let you know about Overnight Oats Recipe for Weight Loss. This delicious and nutritious breakfast dish is incredibly versatile, easy to prepare, and offers numerous health benefits. Moreover, if you are looking to shed some extra pounds, overnight oats can be an effective way to promote weight loss. In this blog post, we'll explore how to make overnight oats, the health benefits of this dish, and some delicious and nutritious recipes to try.
WHAT ARE OVERNIGHT OATS?
Overnight oats have skyrocketed in popularity in recent years owing to their exquisite taste and astonishing ease of preparation. Individuals simply cannot resist this delectable, incredibly convenient, and nutritionally sound breakfast option.
Curious about overnight oats? They're a delightfully uncomplicated and adaptable dish created by soaking rolled oats in liquid overnight. During this process, the oats become tender and gracefully assimilate the delectable flavors of accompanying ingredients.

How to Make Healthy Overnight Oats Recipe for Weight Loss: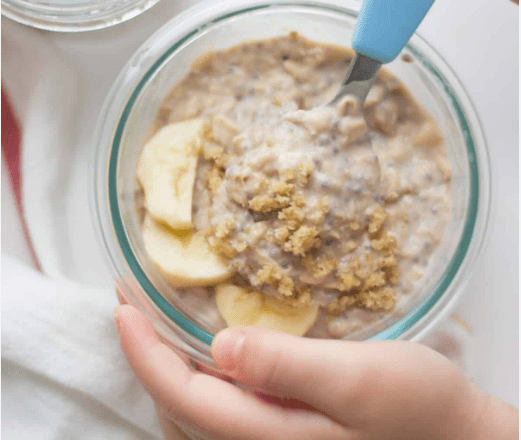 Overnight oats are incredibly easy to make, requiring only a few key ingredients and minimal prep time. First, you'll need rolled oats, which you can mix with any type of milk or yogurt (dairy or non-dairy). If you prefer a sweeter flavor, add honey, maple syrup, or stevia. Next, mix in your favorite toppings, such as fresh fruits, nuts, seeds, or spices. Once you've combined all your ingredients, refrigerate the mixture overnight (or for at least a few hours) in an airtight container. In the morning, you'll have a delicious and healthy breakfast waiting for you!
Health Benefits of Overnight Oats:
Not only are overnight oats delicious, but they also offer numerous health benefits. First of all, oats are high in fiber, which can help promote feelings of fullness and prevent overeating. Additionally, oats contain antioxidants, which can protect your body against inflammation and disease. Moreover, oats are a great source of complex carbohydrates, which can provide sustained energy throughout the day.
Delicious and Nutritious Overnight Oats Recipes:
There are countless variations of overnight oats recipes to suit any taste or dietary preference. Here are some of our favorite recipes to try:
1. Banana Nut Overnight Oats:
Mix rolled oats, almond milk, mashed banana, chopped nuts, and cinnamon. Top with extra nuts and banana slices.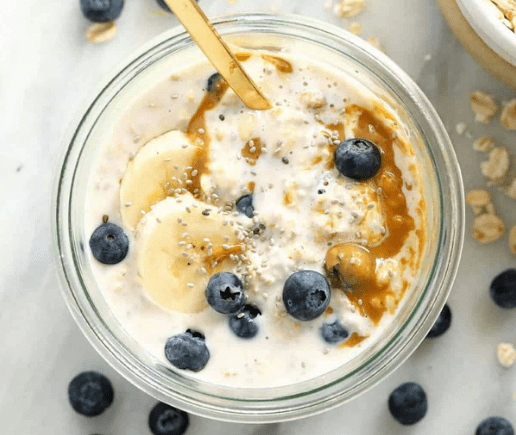 2. Blueberry Chia Overnight Oats:
Mix rolled oats, Greek yogurt, almond milk, chia seeds, honey, vanilla extract, and fresh blueberries. Top with additional blueberries and almond slices.
3. Chocolate Peanut Butter Overnight Oats:
Mix rolled oats, almond milk, cocoa powder, peanut butter, and honey. Top with chopped dark chocolate and sliced banana.
4. Coconut Mango Overnight Oats:
Mix rolled oats, coconut milk, diced mango, shredded coconut, and honey. Top with additional mango slices and toasted coconut flakes.
Tips for Making Perfect Overnight Oats:
To ensure that your overnight oats turn out perfect every time, keep these tips in mind:
Use rolled oats instead of steel-cut oats, which take longer to cook.
Experiment with different types of milk and yogurt until you find your favorite combination.
Don't be afraid to get creative with your toppings; there are endless options to choose from!
Play around with the ratio of oats to liquid until you find your perfect consistency.
Watch Video on Overnight Oats for Weight Loss
Final Words
Overnight oats are a delicious and healthy option for anyone looking for a nutritious and convenient breakfast. By switching up your ingredients and toppings, you can create endless variations of this dish to keep your taste buds satisfied. Moreover, with their high fiber and nutrient content, overnight oats can be an effective way to promote weight loss and boost overall health and well-being. So why not give overnight oats a try and see what all the fuss is about? Your body (and your taste buds) will thank you!